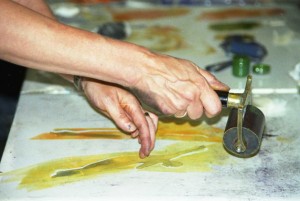 Fine arts graduate from Concordia University, in Montréal, Canada, France Brodeur further studied and worked with artists and printmakers in Québec, France, Scotland and England.
Exploring the interface between abstract and representational forms, particularly those found in nature and the human body, France Brodeur's art looks through surface appearances to their human significance especially in terms of universal but deeply personal life experiences such as change and loss. Her art, combining different printmaking techniques – etching, monotype, collagraphy, lasertrans, linotype, and a combination of those – evokes images invested with metaphorical and emotional meanings.
OPC member France Brodeur's work possesses a spirituality and deep respect for nature, that resolves itself in a poignant sense of beauty's inherent dialogue with mutability by repeatedly stepping through and past representational appearance to dig deep into raw human experience.
She exhibited regularly with the Oxford Printmakers Co-op. Her work has been shown as part of solo, duo and small group exhibitions in galleries and museums in Canada, Great Britain, France, Belgium and Turkey.
"France Brodeur's etchings seem suggestive of natural forms and surfaces. Worn, softly scarred and evocative of shifts in time they have a quiet poetry. They are works which have beautiful passages within."
Tom de Freston, LSA/AMA Summer Exhibition, 2008
France died in April 2014, following a long illness. She was working on her art to the last.
Five weeks before her death, she gave an in-depth 50-minute talk on her artistic roots, techniques and inspiration, as part of the opening of/at the vernissage to her very successful one-woman retrospective exhibition at Ragley Hall, Warwickshire.
France thrived on youthfulness and new ideas. Committed to her own work, she was also fascinated by that of others. She was especially interested in the young and their aspirations: "You are full of life and projects. Please continue! Do more than I did and especially love life."
The France Brodeur Young Artists Award (FBYAA) was launched in 2016 to honour France's belief in life and its need to be lived and celebrated – which is what her art is all about. The award ran for 2 years until losing its original host organisation, The Artists Workhouse, Alcester. The Cultural Services at Warwick District Council, have now taken on this responsibility.
The re-launch of FBYAA will be on 14 July 2022.
It will provide young creatives with a great opportunity to seek funding for their proposed projects.
Further details of how to apply will be available then.
We would like to thank Oxford Printmakers Co-operative (OPC) for the original fund raising towards the award in 2015 and Dawn Harris, at the former Artists Workhouse, Alcester, for generously agreeing to host it for its initial two years.