Upcoming
2016 FBYA Awards Evening + Call for 2017 Applications
Friday 3rd March 2017 6.30pm – 8.30pm at ArtistsWorkhouse, Studley, Warwickshire
Following a successful first year, The France Brodeur Young Artists Award (FBYAA) is very happy to announce both its Awards Evening for 2016 and the opening of the 2017 call for applications.
At the Awards evening, the 2016 award winners – Molly Lemon and Pamela Schilderman – will be exhibiting their work and talking about how FBYAA has helped them.
The FBYAA offers financial support to a young artist(s), aged between 18 and 35 years old, in relation to their art and artistic career. Ideally, grants awarded will be towards costs involved in a proposed project, which should include developing new work.
Practitioners who can demonstrate a commitment to their work, technical rigour, and development within their practice, would be ideal candidates.
Awards of between £500 and £2,500 are available.
The FBYAA 2017 call for applications opens on Friday 3rd March 2017 and closes at 12 noon on Thursday 31st August 2017. It is intended that award(s) will be announced in October 2017.
---
Recent Events
Retrospective Exhibition – A Lasting Passion
Monday 2 March – Saturday 18 April 2015
Private View: Sunday 1 March 2015, 12.00-15.00
and launch of the first stage of
The France Brodeur Young Artist Award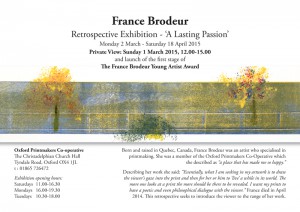 Venue:
Oxford Printmakers Co-operative
The Christadelphian Church Hall
Tyndale Road, Oxford OX4 1JL
t : 01865 726472
Exhibition opening hours:
Saturdays: 11.00-16.30
Mondays: 16.00-19.30
Tuesdays: 10.30-18.00
Warwickshire Open Studios
France exhibited with a group of other artists in studios situated in a Grade 1 listed stable yard at Ragley Hall.
One of France's prints, Pheasant Feather 3, was exhibited in the launch event on Friday, 30 May, at Floor One Gallery, Rugby Art Gallery and Museum, Little Elborow St, Rugby CV21 3BZ.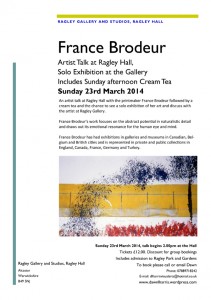 Solo exhibition from 23rd March till 13th April (Wed-Sun)
Artist talk on Sunday 23rd March 2014, 2 pm
An artist talk at Ragley Hall with the printmaker, France Brodeur, followed by a cream tea and the chance to see a solo exhibition of her art and discuss with the artist at Ragley Gallery.
Passion for Printmaking
– an excerpt from the review of the Ragley Hall exhibition in the Coventry Telegraph by Julie Chamberlain
"An artist who is passionate about printmaking is holding her retrospective in an attractive and atmospheric gallery.
France Brodeur comes originally from Quebec, and studied fine art at Concordia University in Montreal. She moved to England in the 1990s, and has in recent years exhibited with the Warwickshire Open Studios, and at Gallery150 in Leamington.
Early in her art studies she discovered an interest in printmaking above other forms of art, and works in many different types of the technique, which she explained at a talk she gave before the opening of her retrospective, A Lasting Passion, in the Ragley Gallery at Ragley Hall, near Alcester.
The lovely stable block was a good setting for her works, which are mostly quite small in size, but are in several different types of style and with many varied subject matters. France said her inspiration could come from many things – one was seeing a hunter with a pheasant he had shot, and another was travelling down the M40 through Warwickshire and seeing the landscape rushing past, much behind a fence.
Sets of work inspired by the pheasant's colours and some of the 40 dry points and monotype prints based on views from the M40 are in this exhibition. The latter were superb, some having the slight look of a Japanese design to them, all featuring a straight line of a fence, and with varied colours and shapes of trees and plans being seen at speed. Some are specific, such as Looking Up At Avon Dassett, others less so, titled An English Valley.
The pheasant monoprints use feathers to create shape or images, and one looks like the shape of the bird, while others are a lot more abstract.
France's other works move between abstraction and more figurative studies. Full Fathom Five not surprisingly looks like a view from under water, with currents swirling around. La Grenouille, or the frog, is similarly pleasant and outdoors-looking. There are a few very colourful works inspired by visits to the Mojave Desert and Grand Canyon.
Orient Dream looks a little oriental and is mainly in black and white with a hint of colour, and Sublunary features a large moon. Other works include small, floaty, fairly genderless characters, expressing what France called her love of life.
The techniques of collograph and etching are also on show here, to exhibit a broad range of printmaking methods from an artist who works hard to put her passion on paper."
---
22 February – 30 March 2014
Exhibition with the Oxford Printmakers Co-op at Cornerstone Gallery, Didcot
10th September 2013
A fascinating evening slide talk by France Brodeur, printmaker, organised by the AMA in Leamington Spa.
Read the review: excerpt from the AMA Newsletter October 2013
Save